Regatta website
www.snipeeuropeans.org
Regatta facebook

Snipe Europeans 2018

Hosting yacht club BSF
Main Regatta contact

Club secretary




Mari Karttunen-Sävelä

e-mail: sihteeri@bsf.fi
mobile: +358 44 733 6336

Hosting yacht club BSF


Principal Race Officer
Ben Karlemo

e-mail: raceoffice@bsf.fi
website: www.bsf.fi

SCIRA Finland

National Secretary
Reino Suonsilta

e-mail: snipeeuropeans2018@snipe.fi
phone: +358 400 451 839
Accommodation | Official hotel partner
The organizers lodging partners are SPA Hotel Yyterin Kylpylähotelli and Sokos Hotel Vaakuna. SPA hotel is located in Yyteri Regatta Center and Sokos hotel in the city center of Pori.
In addition to SPA Yyterin Kylpylähotelli offers restaurants, bar, café, hotel rooms, villas and rental services just 50 m from the Race Office. Whereas Sokos Hotel Vaakuna is located in the city of Pori offering the city center activities and services.
Hotel Virkistyshotelli Yyteri

Address: Sipintie 1, FI-28840 PORI

website: www.yyterinkylpylahotelli.fi

e-mail: myynti@yyterinkylpyla.fi

phone: +358 2 6285300

Distance to regatta center 50 m

Price list
Reservation Code: "EC Snipe"

Sokos Hotel Vaakuna
Address: Gallen-Kallelankatu 7, FI-28100 PORI
website: https://wwww.sokoshotels.fi/en/pori/sokoshotel-vaakuna
e-mail:
phone: +358 29 004 2001
Location at the city center of Pori. Distance to regatta center 20 km.

Hotel rooms in city center
CODE: Snipe European Championship 2018 | Vikla EM
Accommodation | alternative offering
Other lodging services in the regatta area can be found at www.visitpori.fi/en
Charter Boats

More information in this link.
Insurance
Each participating boat shall be insured with valid third-party liability insurance with a minimum
cover of 500 000 € for personal and 250 000 € for material damages per incident or the equivalent.
Measurements and Equipment inspection
Please read carefully position 6 in the NOR.
The measurements and markings in competitors home countries
...All boats shall produce a valid Equipment Inspection Sheet (EIS) and equipment marked with stickers according to Measurement Instructions as described on the official regatta website. . Instructions for the EIS will be published soon on the official regatta web site www.snipeeuropeans.org at Notice Board.
In case that the EIS measurements are done by the Race Committee in Pori, a fee of 200 € will be charged, except if a measurer is not appointed in the home country then no fee will be charged.
In-house Measurements
More info about In-House Measurements here.
Shopping Services
Grocery stores:
* in Kaanaa: K-market, address Juhanintie 1, Pori, distance 1 km.
* in Pihlava: K-market, address Kiviaidantie 11, Pori, distance 6 km.
Bank automat:
in Pihlava: address Harry Gullichsenintie 1, distance 6 km
Pharmacy:
in Pihlava: address Pihlavan kirkkotie 1, distance 6 km

Training before Europeans regatta week
The racing waters and harbors at Yacht Club and Yyteri Beach are open for competitors also before the regatta week. Anyhow, before Regatta week it is recommended to use the yacht club harbor (address Kallontie, Pori) instead of Yyteri Regatta Center due to some traffic and build up of race center.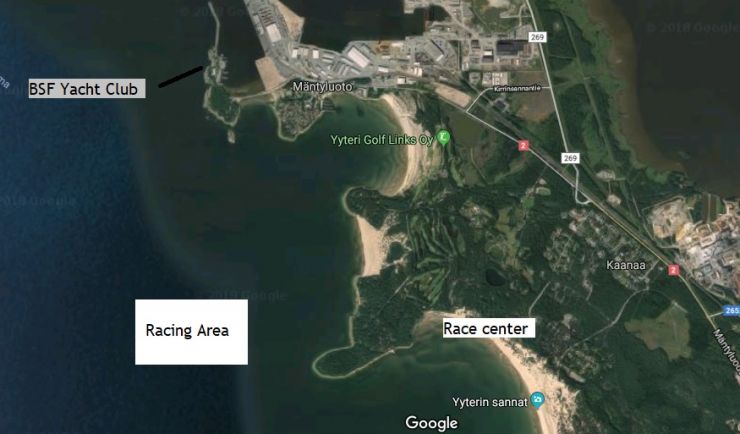 * Pre-regatta | 71st Open Finnish Nationals | Airiston Regatta | Aug 10-12 | Turku
Are you interested in staying in Finland a bit longer? One opportunity is to participate Open Finnish Nationals in city of Turku.
SCIRA Finland and hosting club TPS in conjunction with other local yacht clubs ASS, TTPS, NPS and GK invite you to 71st Open Finnish Nationals. The event is called Airiston regatta and it is annually repeated multi-boat regatta in the beautiful city of Turku, ex-capital of Finland during 1809-1812. More info: visit Turku.
Address: Pursiseuranranta 30, 20100 TURKU. Link to English NOR: http://turunpursiseura.fi/kilpapurjehdus/airisto-regatta/notice-of-race/
Travelling to Pori
Finland and city of Pori are easy to reach by car, flight and rail.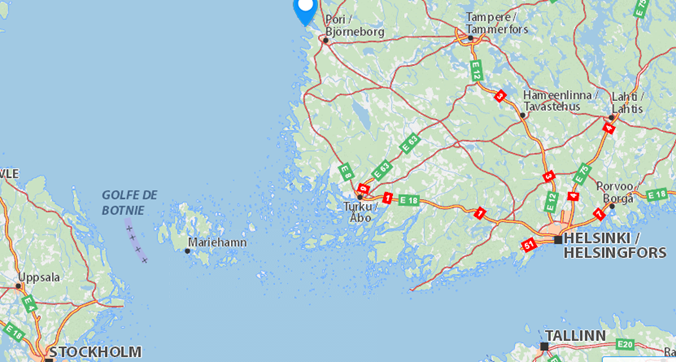 * By

car and ferry
- Offers from Finnlines, official ferry partner

The most of the sailors will arrive to the Europeans with a car and a trailer. Our partner Finnlines offer remarkable discounts and cheapest price level when using Ferry connections to Finland.

Travel in comfort on Finnlines ferries from Germany to Finland or Sweden or from Sweden to Finland for a special SNIPE price! All our star class vessels have been renovated recently and their fresh maritime atmosphere invites you to relax onboard before and after the exhausting race.
This special offer for Snipe European Championship is valid on all our passenger routes: Travemünde–Helsinki, Travemünde–Malmö and Kapellskär–Naantali. The travel period is from 13th of August until 31st of August and the booking must be made latest 30th of June.


Offer




Please find more information about the offer in

English, German or Swedish and book a ferry trip for you and your boat.
Welcome aboard!
Finnlines
Please find below some alternative proposals.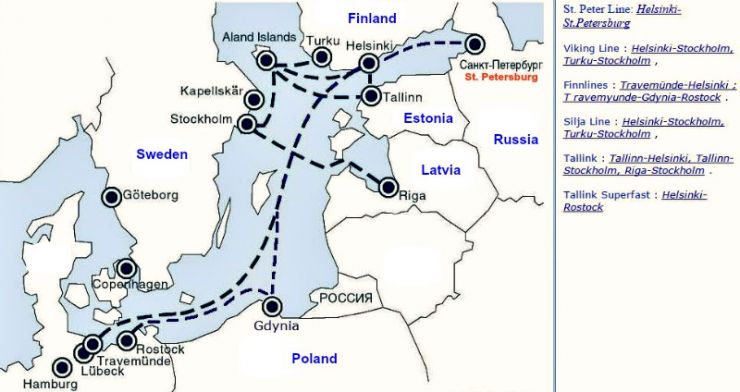 Route Germany-Sweden-Finland (partner discount) This is our proposal as a route when using our partner Finnlines services and travelling from continental Europe.
Travemünde GER - Malmö SWE 9h | 25% discount only for morning and day departures, example 138€/one direction, 2 adults + car + trailer max 12 m long, over 2.1 m high
Kapellskär SWE - Naantali FIN 8-9h | 40% discount from standard prices for only morning departures, example 101€/one direction

17.8 09:15-19:10

, all meals,

2 adults + car + trailer max 12 m long, over 2.1 m high
Naantali offers also a specific place to visit called Moomin World, character created by World famous author Tove Jansson.
Naturally you can drive also via Denmark to Copenhagen-Malmö bridge or use Ferry connection Helsingör-Helsingborg.
Alternative route Sweden - Finland (no partner discount)
Stockholm SWE - Turku FIN 8h | TallinkSilja Line
Stockholm SWE - Turku FIN 8h | Viking Line
These ferries are like Caribean cruisers modern amusement parks, built for more than 2500 travellers with dancing, severals restaurants, shops and other services. Much higher price level. No partner discounts available.
Route Germany-Finland | Finnlines (partner discount)
Travemünde GER - Helsinki FIN 30h | 25% discount from standard prices all trips, example 921€/one direction, 2-4 adults + car + trailer max 12 m long, over 2.1 m high, all meals, B-cabin
Route Estonia -Finland | Via Baltica (no partner discount)
If you want to drive a long distance and arrive from East part of Europe, an alternative route is Germany (Berlin) - Poland (Varsow) - Latvia - Lithuania - Estonia (Tallinn) - Finland (Helsinki). The ferry Tallinn-Helsinki takes only 4h.

* By flight
Pori airport has offered some connections from Helsinki and Stockholm. Unfortunately at the moment the connection is off due to bankcruptcy of the flight company.
Address of airport: Lentoasemantie 1, 28500 PORI
* By

rail

Pori can be reached also by railway. Connections from Helsinki airport via Tampere to Pori railway station.
* By

bus

Pori can be reached also by bus from Helsinki-Vantaa airport (230 km). In the search machine sometimes Vantaa airport. Time tables for August will be launched a bit later. Distance from Pori bus station to Yyteri Regatta center is 20 km.
* By Sea container
It is also possible to bring your boat to Europeans in a sea container. Port of Pori is located just 4 km from the Regatta center in Yyteri. The container can be stored during the regatta in the harbor of the yacht club BSF, just 500 m from the container harbor. Website: http://portofpori.fi/en.
The boats can be trailered to Yyteri Regatta Center. Contact: sihteeri@bsf.fi.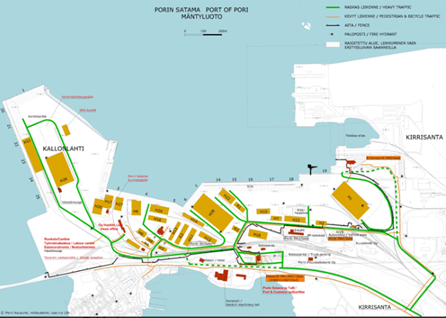 Transport in Pori - by bus or taxi
Bus connections to the city of Pori can be found in front of the SPA hotel Yyterin Kylpylähotelli. Area offers also good paths for bicycling.
Address of bus station in Pori: Asema-aukio, 28100 Pori.
Railway station in the city of Pori, address: Asema-aukio, 28100 Pori.

Contact taxi: phone +358 600 30033
Weather
Coach information
More info coming soon
Spectator boat
More info coming soon
Regatta Center
Regatta center consist of Race Office with info desk, Boat park, Car and trailer park, Measurement office, Boat and Sail Services, Accommodation services including hotel, cabins, camping for tents and campers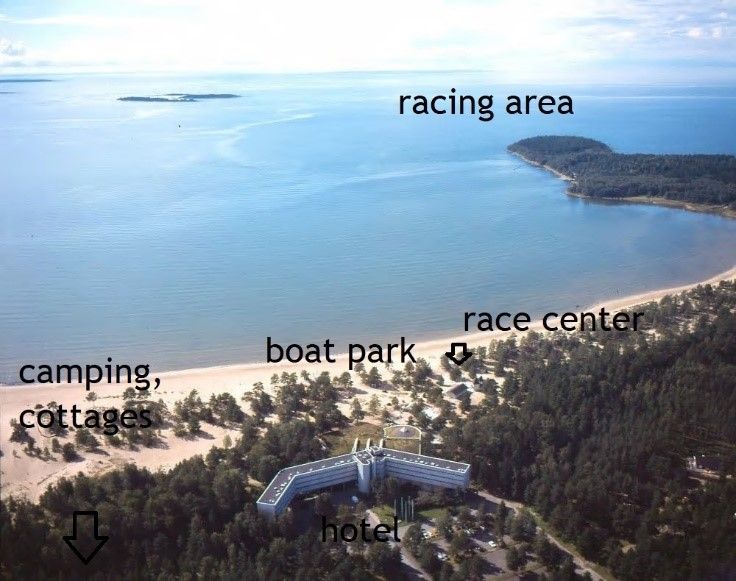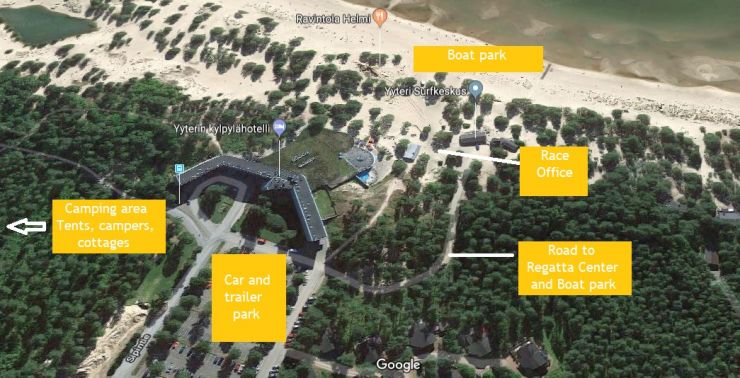 Tourism

Finland
Finland has a unique location as one of the five Nordic countries. Long winter season with snow covered surfaces as well as short but intensive summer season with white night fun when sun hardly goes down, have shaped the mind of the Finns. Finland has been recently ranked the top ten country in many international studies such as "Happiest country in the World" by UN, "most secure and safe", "one of the best schooling and health care systems". Some to mention.
Links: More reasons to visit Finland can be found in Official Travel Guide of Finland.
Yyteri Beach and nearby area
The Regatta Center has been located in Yyteri, which is a unique nature area with 5 km long sandy beach, the longest in Nordic region. According to visitfinland.com Yyteri offers many attractions such as nature paths, Adventure park for kids and child-minded adults, climbing to bird towers to follow the early spring and late autumn bird migrations, not to forget numerous summer activities as golf courses, beach volley, tennis, horse riding, windsurfing, jogging, nature trails, cycling and swimming either in sea, sandpits or in spa. The British newspaper Guardian ranked Yyteri among the top ten beaches in Europe for families with powder-soft sand backed dunes and pine forest.

You never know about Finnish summer climate but in EC2006 regatta the participants hardly needed long trousers during the regatta week. We expect the water temperature to be close to 20 degrees. Close-by accommodation services include camping area for tents, caravans and cottages, from brand new luxorious all-season villas to quite modest ones.
So-called Meri-Pori (Sea-Pori) area with Yyteri, Kaanaa, Mäntyluoto, Reposaari and Pihlava offer travellers different type of services and unique experiences at proximity of the sea.
Links
* City of Pori
* Yyteri area
* Official Travel Guide Finland